NEW eBOOKS AVAILABLE IN 6 FORMATS
Adobe acrobat = PDF
HTML = .htm
Kindle = .mobi
MSReader = .lit
Nook = ePUB
PALM = .pdb
PDF for iPhone = .pdf






HOME >> Product 0463 >> Telephone Calls From The Crypt>>
Touch image to enlarge




Telephone Calls From The Crypt

Alexander Adams




Martha Belmont is a very rich and very mean old woman who lives on the Main Line in suburban Philadelphia. She has been diagnosed with terminal cancer. She is addicted to her Apple iPhone and has the objective of making obscene or troubling phone calls to all the area codes in the United States.

$1.99





Paperback Buy Link




$8.00

Through her Jamaican maid, Yolande, she is introduced to a Voodoo psychic in South Philadelphia, named Jamarcus, who is a disciple of a grand Voodoo master in New Orleans called the Black Messiah. She meets with Jamarcus and eventually with The Black Messiah. The Black Messiah is the one true, direct descendant of Yoa, the savior of a peaceful Dahomey tribe in West Africa several centuries ago.

The Messiah is also the sole possessor of Yoa's magical spear. The Messiah convinces her that with the help of Yoa he can offer her eternal life. Satisfied that the Messiah's offer has validity she has her accountant transfer $500,000 dollars in cash to Jamarcus and 1.5 million dollars to the Black Messiah's offshore account.

Jamarcus supervises the construction of a luxury tomb for Martha in a South Philadelphia cemetery. Shortly before the exact moment when Martha would have died naturally, the Black Messiah is summoned to her home. He performs an elaborate ritual that requires Martha to pledge eternal loyalty to Yoa. He then throws the Spear of Yoa into her chest, and Martha immediately becomes one of the living-dead.

After an interesting viewing and funeral service, Martha is interred with her iPhone into a tomb that includes all the luxuries anyone could ever desire. While living a life of luxury, Martha uses her Apple iPhone to terrorize people living in as many telephone area codes as possible and to gain vengeance on anyone, including both of her children, who have wronged her during her life. Her telephone calls from the crypt are sometimes vicious and sometimes hilarious, but always entertaining. Over the years, Martha mellows a bit, but she remains the kind of person you would not want to cross.
Length:

43385 Words

Price:

$5.99

Sale Price:

$1.99

Published:

07-2018

Cover Art:

T.L. Davison

Editor:

Terrie Lynn Balmer

Copyright:

Alexander Adams

ISBN Number:

978-1-77217-088-7

Available Formats:

PDF; HTML; Microsoft Reader(LIT); Palm (PDB); Nook, Iphone, Ipad, Android (EPUB); Kindle (MOBI);

Paperback Price:

$8.00

Paperback Buy Link
Martha Belmont is a mean old bitch. She has lived on the Main Line in the Philadelphia suburbs for 55 years. Her husband, Edgar, with Martha's significant assistance, had made a fortune in the stock market and later in real estate. He had died 10 years previously from an apparent heart attack. They had two children, Courtney, 51 and Kaleb, 48. Both hated their mother with a fiery passion. They blamed her for killing their father, and they resented her for hoarding all of their father's money when both were saddled with traditional family responsibilities and had never been able to parlay their Ivy League quality educations into a decent living. To make matters worse, if they didn't obey her every wish, Martha continually threatened to disinherit them when she died.
Martha lives in a palatial mansion with a full-time Jamaican maid, cook, butler, and chauffer. Courtney had gone through three husbands, none of whom she had married because of his intellectual abilities or work ethic. She and her 16-year old daughter live three blocks from the 69th Street Terminal in Upper Darby.
The neighborhood is severely challenged. Although Kaleb was "school-smart" and has worked for 25 years as a librarian in the School District of Philadelphia, he has little money in the bank, a spouse who doesn't work, a $150,000 mortgage on a house in North Philadelphia, and two kids approaching college age.
After her afternoon nap, Martha decided to call the family lawyer to discuss rewriting her last will and testament. She had been feeling ill for the past three months and wanted to make sure that her good-for-nothing children didn't inherit the lion's share of her estate if she died unexpectedly. The lion's share of her estate would go to the Daughters of the American Revolution and to Vassar College, where she had earned her B. A. degree in 1959. The "little bastards," as she called her children, had been nothing but trouble since Edgar died, and she was damned if she would make their lives any more comfortable than they deserved after her death. It never occurred to her that calling her children "little bastards" reflected negatively, not only on her children, but also on her.
To submit a review for this book click here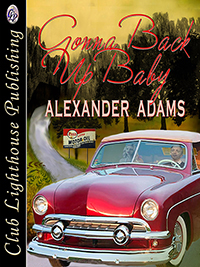 Click on
image for our
featured titles
CLUB
LIGHTHOUSE
PUBLISHING
INFO
rich, mean woman, phone, Philadelphia, Jamaican maid, Voodoo priest, magic, spear, cemetery, eternal life, revenge

Home ║ Privacy Notice ║ FAQ ║ Site Map ║ Contact Us