NEW eBOOKS AVAILABLE IN 6 FORMATS
Adobe acrobat = PDF
HTML = .htm
Kindle = .mobi
MSReader = .lit
Nook = ePUB
PALM = .pdb
PDF for iPhone = .pdf






HOME >> Product 0408 >> TWENTY EIGHT WORLDS>>
Touch image to enlarge




TWENTY EIGHT WORLDS

GARY ALLEN




Twenty-Eight Worlds is about a middle-aged, dying writer living in Italy who goes in search across Europe for the Eastern European girl he walked out on many years before. The novel deals with European culture, history, art, religion, as told though the writer, but is also about the underclass of Europe, the corruption, sex industry, and immigration, those who have slipped under the net.

$3.99





Paperback Buy Link




$9.50

It also tells the story of Sela—the girl he walked out on, leaving her in their cheap bedsit in Amsterdam, when he began to get published—who was left abandoned in an Eastern European country, brought-up by her superstitious grandmother, then left orphaned, sexually exploited, smuggled across borders to Western Europe, where she worked as a prostitute before meeting the writer. The novel also deals with the writer's childhood, growing-up during the 'troubles' in Northern Ireland, and his own escape. The book is (quite naturally, given the subject material) sexually explicit, but also full of black humour. At the end of the novel, he never finds Sela, but never really expected to, and the journey was more a search for himself, a penance for his life.
Length:

94229 Words

Price:

$4.99

Sale Price:

$3.99

Published:

06-2016

Cover Art:

T.L. Davison

Editor:

W. Richard St. James

Copyright:

Gary Allen

ISBN Number:

978-1-77217-046-7

Available Formats:

PDF; HTML; Microsoft Reader(LIT); Palm (PDB); Nook, Iphone, Ipad, Android (EPUB); Kindle (MOBI);

Paperback Price:

$9.50

Paperback Buy Link
SO, WHERE ARE YOU now Sela? Are you still turning tricks out of the Centraal Station? Coffee and roll money. Backing yourself into an unused locker to sleep – but then you were always small, almost boyish. Or are you squatting in the once grand rooms of an old building in some European city, in some depressingly familiar street of boarded up windows, bulldozed sites, kebab shops, vegetarian restaurants, free press community advise centres -- offering sex. Let me see it all again: the chipped porcelain in the plaster piled bathroom, the flaked radiators, the hardboard partitions, ripped out and shipped out antique fireplaces, and let's not forget the bedroom, the mattress on the floor, the manifestos scrawled on the walls, the rucksacks, the crumpled tissues and condoms, and some Jesus calling himself Matthias stretched out and naked, hard and ready for his little mistress. Or maybe you are on the move again? Strung out on the auto routes, the sad cafés with the beer crates and overflowing rubbish out the back where the truckers of this unhappy union will take a blowjob to take you out of this dump to the next one down the line.
Are you sleeping? Under the concrete pylons of the flyovers, among the hogweed, in a stolen sleeping bag, the stuffing puffing out of the worn seams, the nail varnished anarchist symbol on the hood. Have you noticed how universal the graffiti for cocks and cunts are? Who puts them here, hovering over one another, or side by side, or in competition? The ones I hate are those that have been given leering, perverted beardy faces – I'd love to smash… but no Sela, I'm not a violent man anymore, couldn't be even if I had the inclination. Wait, yes I'm getting back to it now, the hung sagging string with your colourful knickers spread along it, drying in the air and the exhaust fumes.
Where are you now Sela? Are you still alive even? And why have you not aged after all this time? Your dyed back hair still long and thick, not a bald or thin patch to be seen. Your small swarthy skinned face with those two little black odd shaped moles at the corner of your lips, the rather bulbous nose that although out of sync with the rest of your features really still seems in tune. And those dark eyes – how could I tell what you were thinking? Sometimes, I admit, I had the sad feeling that there was nothing there at all – wouldn't that be something! And your little body, too short, too hairy in a liberated European way, but I must say, I did like the small breasts… but where are you? You can't be just in my mind, a hovering bird trapped in the back of my skull, with all the other rubbish accumulated over fifty years to grow old and dull, to rot as something syphilitic, to turn to mulch like everything else in life.
Why do I summon you now? Why do I think of you now? After all these years, why should I search you out? Is it possible, can you save me, my little saint of the fornicators? Can you indeed repair my old and bruised soul?
I am sweating to death my darling. Four floors up above the Via Del Corso. The curtains don't pull together and the bright sunlight is blinding. The walls are old but well preserved. Prints of ancient Rome hide the shabby bits. The window is closed, but I can still hear the feet on the pavement, the car horns, those bastard scooters, and will you believe me when I tell you that I can smell coffee, that I can feel the forty degree heat in the Villa Borghese, the tired grandmas and their heat stroke children, the breaking pathways, the loud crackling of the parasol pines in the strong breeze. Like a hand darting into a young man's flies…
What am I doing here, Sela? Washed up at fifty. Alone. Even my books don't sell anymore – but, no, you wouldn't know anything about that, would you? I had published nothing back then, oh maybe a handful of short stories in less than salubrious magazines, but nothing… substantial. Well, let me tell you then, I am (I almost said "was') the author of four well acclaimed novels – who by, I can't remember anymore, well I do, but that's not important. One of which (the title will mean nothing to you) sold very well indeed. So you see, I've been a man of leisure for some time now, telling myself that I will travel in more luxury than either of us were used to, and gain inspiration for my next works – only, they never materialised. Is it writer's block? I don't think so, for one, I never really tried to get anything down again, I just couldn't be bothered, it became… boring. Who needs another book? A self-centred, conceited novel slowly disappearing up its own smart arse. Anyway, I still have some money – maybe that's the problem. I bet Sela, you who hated money and the rich, who despised possessions and property, I bet you could help me spend it, couldn't you, eh?
To submit a review for this book click here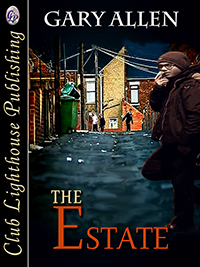 Click on
image for our
featured titles
CLUB
LIGHTHOUSE
PUBLISHING
INFO